The Screen is used to display the text of a program stored on a Disc. The user friendly graphical user interface makes it very easy to make sophisticated programs to do same amazing things. Coming soon will be the ability to add Screens externally to the computer by placing them next to it, in order to utilize the Graphics API.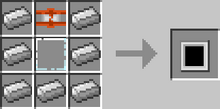 Ad blocker interference detected!
Wikia is a free-to-use site that makes money from advertising. We have a modified experience for viewers using ad blockers

Wikia is not accessible if you've made further modifications. Remove the custom ad blocker rule(s) and the page will load as expected.